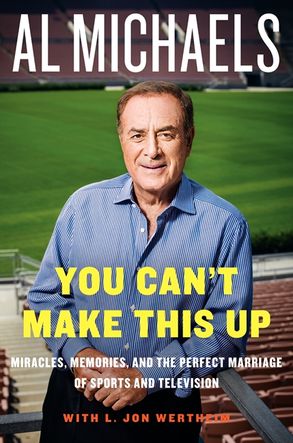 Ever since I was little, I've admired the work of Al Michaels, and how could you not? The guy's a legend. I have fond memories of his days on Monday Night Football alongside Frank Gifford and Dan Dierdorf. I loved Monday night football. Heck, I used to sneak out of my room when my parents thought I was in bed during Monday nights to see the action on the gridiron. There was a different feel to the games that came on Monday nights and so much of it had to do with Michaels.
And now, we can all hear about his career straight from the source. Michaels has written a book titled, "You Can't Make this Up," where he shares his fascinating stories and let you in on how he went from being a college student at Arizona State to broadcasting the "Miracle on Ice," Super Bowls, NBA Finals, and much, much more.
The book is a great read, even if you're not a sports fan. Michaels is a household name and whether you know it or not, he was involved in some of your favorite sports memories.
Michaels has inspired so many in the field of sports media. He has always made it look so easy and it's obvious he's having fun. He has never made himself part of the story but allows the games unfold how they may, which in a way, is kind of ironic because many of the games wouldn't be so historic if it weren't for Michaels making the call.
The book is sold in Barnes and Noble and other stores in Tyler.