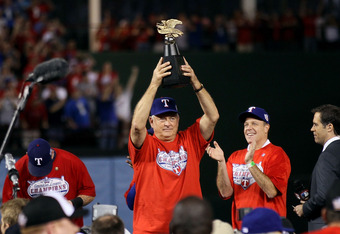 Traditionally speaking, football is king in Texas, but this year is a little different.
Tyler is usually Cowboys' country because it's right down the road from Dallas, but this year more than ever, Tyler sports fans are excited about something else; the Texas Rangers.
Obviously, it's mainly because the Cowboys' season has ended before the Rangers, but for the first time in franchise history, the Rangers are in the World Series. Before the season started, they were the only team in Major League Baseball to have never won a playoff series, and now they've won two, knocking off the Tampa Bay Rays and the defending champion New York Yankees.
The excitement in Tyler is contagious.
Kings Academy Christian School requires its students to wear uniforms, but during the World Series, the kids are allowed to wear Rangers apparel.
It's probably not the only school doing something like that in Tyler, and it certainly isn't the only one with high hopes.
Despite being down in the World Series 1-0, East Texas Citizens are still optimistic, and it's easy to see why. After all, the Rangers did beat the Yankees after losing the first game of the series at home.
Also in years past, the Rangers fans have gotten used to the team losing.
Before this year, it had been 11 years since Texas' postseason appearance, and waiting for the usual skid after the All-Star break became an annual norm.
This team has several great stories surrounding it which give fans in Tyler more reason to celebrate.
Earlier in the year, the talk wasn't so much about the postseason as much as the team's financial status.
Hall of Fame pitcher Nolan Ryan had five great years on the mound for the Rangers and a couple more as president of the club before becoming part owner to put an end to the bankruptcy crisis.
As a player, Ryan had seven no-hitters. As the team president, he changed the Rangers' mentality, particularly the pitchers, and turned them into contenders. As an owner, he brought them to the World Series, and now, citizens of Tyler are watching in hopes of seeing him turn the Rangers into 2010 MLB champs.